CHIOS

TRADITION

MOSTRA OF THYMIANA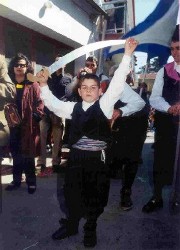 Mostra of Thymiana is an old custom since the medieval times, without any special date that started.

The last Friday of Triodio the young men of the village masquerade. They wear old manly and woman's clothes and hide their faces with extempore masks. Then, on Sunday they are gathered all together in the center of the village and accompanied with musical instruments, they dance the famous "Talimi".

This dance is particularly fascinating and enacts with dancing movements the fights, face to face, between the locals and the pirates. After that they head for the church of Agios Eustratios, singing a war-song, and there they tie on the church's railing the Chian standards and flags.

In our days this old tradition has been enriched with new elements, satiric floats and opportune dresses.
Please share your opinion of it with other travelers. Write a review!