CHIOS

MASTIC GUM

The Wounded Tree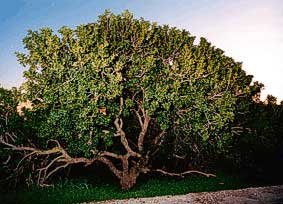 If a trademark were to be established for Chios, then surely it would be the mastic tree. It is a gift and at the same time a curse since it has always been the bone of contention for conquerors. This evergreen tree called Schinos, belongs to the botanical family Pistachia. The average growth of the tree ranges from 6 to 10 feet tall and it begins to produce mastic at the age of 5 to 6 years old. This amazing tree thrives within the 21 mastic villages of southern Chios only.

The oldest references to mastic have been traced back to Herodotes in the 5th Century B.C. The people of Ancient Greece chewed mastic to whiten their teeth and if you think about it, mastic was the unique chewing gum even then! During the Roman period, toothpicks were made from the mastic tree and the use of mastic spread to the harems of the East. Tradition says that God blessed the mastic tree which began to "cry" in 250 A.D., when St. Isidoros cried out in pain during his martyrdom.
Please share your opinion of it with other travelers. Write a review!