CHIOS

MASTIC GUM

Kendos- The Incision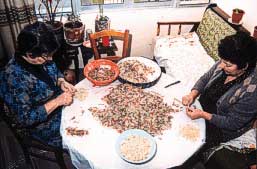 The collection of mastic begins when the mastic producers clean the area under the tree and they cover it with white clay so that the tears will stay clear and dry faster as they fall to the ground. The kendos begins in June and lasts through September.

The mastic producers make an incision along the tree trunk in the shape of an arch with the kentitiri. Their day begins early before sunrise and they make their way to the fields with their donkeys in one of the most picturesque scenes ever seen on the island those days. The mastic growers are suitably dressed and well equipped in their endeavor, racing against the sun, trying to avoid his presence.

The curing of the mastic tree ends before the sun reaches its highest point. When the tears have been coagulated, the mastic laborers use the timitiri to gather the precious crystals. Every little piece of this natural product is collected even if it is mixed with dust.

The narrow streets of the mastic villages come alive as the mastic collectors start the tahtarisma (sifting), the cleaning of the crystals with soap and cold water, the drying and the scratching of the mastic tears.

This is a social event. If you visit the mastic villages during that period you will feel the warmth of the people prevailing in every corner of the village.

After all, isn't this the real magic of mastic?
Please share your opinion of it with other travelers. Write a review!